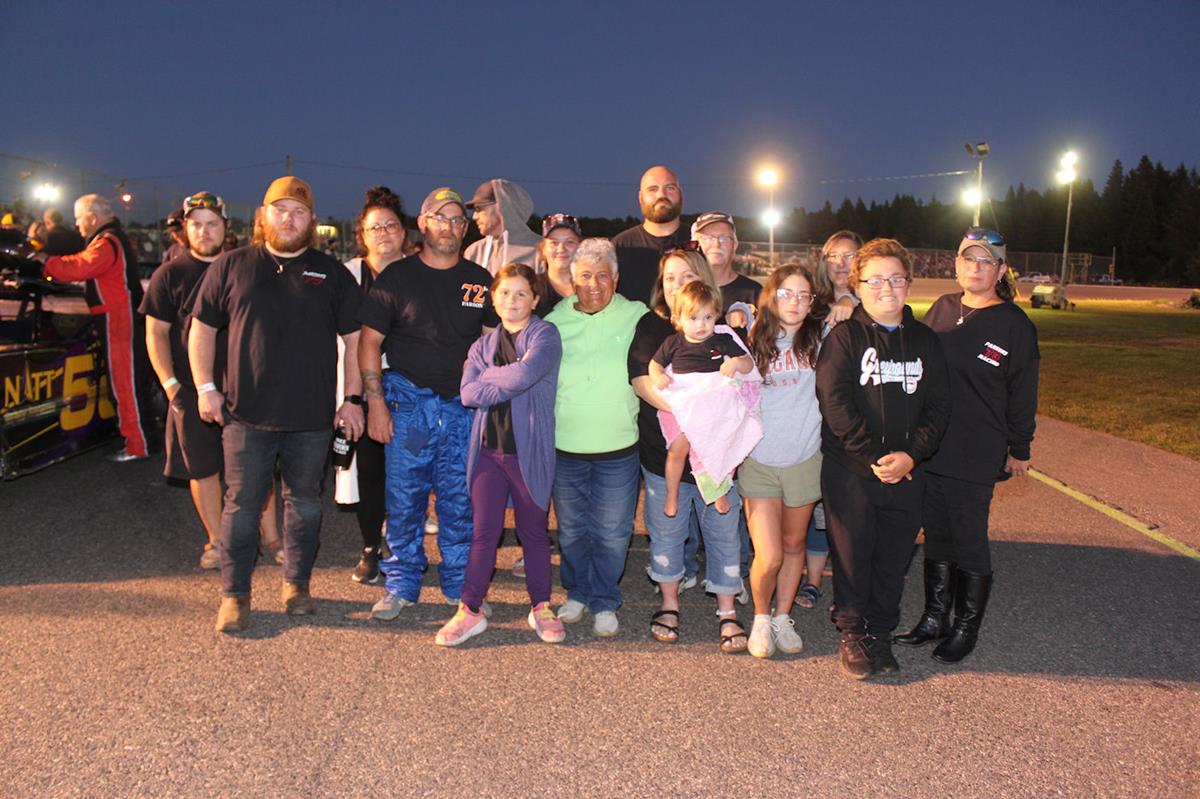 ---
It was a Very Impressive 2023 Season Finale at Laird
Race Weekend Recap for Friday Aug 25 & Sat Aug 26.
We had a two day weekend Mike Parsons Memorial event scheduled for the evenings of Friday Aug 25 and Saturday Aug. 26. Unfortunately, the Friday event was rained out with a heavy downpour just before qualifying time, but the action on Saturday night made up for it!
The weekend events were sponsored by Ledcor Group, a large North American construction company that manages various construction projects. Locally Ledcor is the contractor that takes care of Highway Maintenance, including winter snow plowing. Service Rentals and Sales was a co-sponsor of the weekend and have sponsored our Super Late Model division through the season. Our thanks go out to these two sponsors and the many others that help to make your local stock car track successful.
Our qualifying session began at 6 pm, then the race events of the night began shortly after 7 pm. Weather was seasonal at about 20 degrees at race time but cooled off as the night progressed. Announcer for the night was once again Greg Brazeau, and Annette Bouchard sang the national Anthems.
For the weekend event we had some out-of-town drivers, some new drivers, and a few local veterans show up that we haven't seen for a while.
Service Rentals and Sales Super Late Models:
In the Service Rentals and Sales Super Late Model division we had visiting drivers from Southern Ontario including #51 Ehtan Courneyea and #17 Brandon Passer, both from Innisfil; #73 Mike Miller from Caledonia; and #03 Dario Capirchio from Gilford. Dario was last year's Mike Parson's Memorial winner and took home the $10,000. He was back to see if he could repeat the win. Other drivers in the division were #7 Josh Ware from Barbeau Michigan, Keith King driving the #91, Roddy Bolduc driving the #61x, and Cody MacLean driving the white 21K for Kevin Errington (the car was scored as #121 for the night). There were a total of 20 Late Models in the pits. Errington was driving his regular black 21K but had engine issues during hot laps and was not out to qualify. #88 Randy Lapossie was also registered for the events but not out for qualifying or to race.
In the division we didn't have any heat races, to allow drivers to save their equipment and tires for the 73 Lap Feature. There were a few short "scuff" sessions for the late models between heat races in the other divisions to allow drivers to check their cars before the big race.
Eighteen Super Late Models were out during the qualifying session. Fast qualifier for the night was #7w Josh Ware with a time of 14.235 seconds.
After opening ceremonies and some driver introductions our race night got started with a 10 lap fast car dash involving the six fastest qualifiers in the Service Rentals and Sales Super Late Model Division. #50 Rob Hiiemaa and #03 Dario Capirchio led the group off at the start. The pair maintained front positions with Capirchio leading the first 4 laps, then Hiiemaa led the last 6 to the checkered flag. #17 Brandon Passer pulled up 2nd, #77 Chase Wilson 3rd, and #7w Josh Ware 4th. On lap 9 Capirchio lost 2nd position and dropped back to finish 5th, and #46 Dan Byrnes 6th.
After the heat races and a short intermission 18 of the Late Models were back out for their 73 Lap Mike Parsons Memorial Race. Before the race the Parsons family came out on the front stretch and announcer Greg Brazeau interviewed track promoter Donnie Varcoe, and Mike's brother George Parsons. Greg then worked his way down the line of cars and did some driver introductions, asked the crowd to count down for drivers to fire 'em up, then the event got started.
For the 73 lap race the start order was determined by qualifying times. The fastest 10 qualifiers were inverted for the start (10th fastest started 1st… fastest started 10th), then the others were started behind the fast 10 in order of qualifying times. Missing from the start were #51x Ethan Courneyea and #88 Randy Lapossie. At the pole were #91 Keith King, and #21 Jake Irwin.
King got off to a good start and held the lead for the first 3 laps, while Irwin found himself losing 2nd place to 3rd and 4th place starters #51 Jeremy Van Hoek, and #61 Dustin Jackson. Van Hoek got ahead of King on lap 4.
On lap 5, #101 Cody MacLean fishtailed going around corner 1 and slid up off the top of corner 2 bringing out the first of multiple cautions during the race. Van Hoek restarted in the lead with Jackson and #03 Dario Capirchio right behind in row 2. They completed another lap then on lap 6 caution was out again with Capirchio behind Jackson tapping Jackson into a spin going into corner 3. Capirchio was seen tapping his roof in front of the flagstand, a gentlemanly sign to accept responsibility for the incident. Capirchio restarted at the back.
Van Hoek now had Jackson inside and King outside behind him on the restart. Caution flew just after the restart, this time with #826 Jordan Parniak sliding up off the top of corner 2. Parniak was running near the back at the time. The race restarted once again and Van Hoek got a good start again, with Jackson in tow. Jake Irwin, who had restarted 4th was off the pace and losing positions. King also found himself getting passed by #7 Josh Ware, #77 Chase Wilson and #3 Shawn Ritchie by the completion of lap 7. Van Hoek continued in the lead and Jackson found himself racing side by side with Ware for 2nd place. Ware took the position. A short bit later, Wilson moved up to take 3rd away from Jackson. The four leaders stayed in that order single file until lap 17 when caution flew again. Keith King was stopped at the bottom of the track near the end of the backstretch. King was unable to continue.
Before the caution, #95 Daryl Weisflock left with 11 laps complete, and MacLean left with 16 laps complete. We were down to 15 cars for the restart on lap 18.
Van Hoek still had the front by himself, Ware and Wilson were row 2, and Ritchie and #17 Brandon Passer were row 3 on the restart. They restarted, got a lap in then caution flew on lap 19 after 21k Kevin Errington spun on the backstretch into the infield. They restarted in the same order again, ran a lap, then caution flew again on lap 20, with Jake Irwin further back going into corner 3 on the outside, sliding and spinning to the top of corner 4. Irwin restarted at the back.
On this restart we watched another 21 laps of great racing before the next caution. Van Hoek still had the lead. Ware and Wilson duked it out for a couple laps then Wilson was able to move up beside Van Hoek for a number of laps. Wilson had the lead by a few inches on one of those laps. Wilson slid back a bit and Ware moved up to 2nd. The four leaders ran single file, opening about a half lap lead on Ritchie and Passer who were doing battle for 5th place. Parniak was shown a black flag, possibly for being off the pace, and left with 37 laps complete.
With 41 laps complete, Wilson got inside of Ware. As the four were coming up the front stretch into corner 1 they had to contend with lap traffic of Jake Irwin. As they rounded corner 2, Ware's left rear came in contact with #61 Dustin Jackson sending Ware into a slide out of corner 2 into the infield. Ware slid in the slippery wet grass and came to rest with a hard knock against the lighting pole on the backstretch. Ware was done for the race. Jackson was sent to the back for the restart. During the caution Capirchio also left, it was reported he was in pain and couldn't continue. Capirchio has been suffering with back issues this year.
We were now down to 12 cars for the restart. Van Hoek was still the leader now with Wilson inside and Passer outside behind in row 2, then Ritchie and #21K Kevin Errington in row 3. At the restart, Van Hoek quickly found Wilson running beside, with Wison taking over the lead. Within a couple laps everyone at the front was running single file again; Wilson, then Van Hoek, Passer and Ritchie with gaps growing between them. There was more attrition during these laps as well, with #29 John Carter, Bolduc and Errington leaving with 44, 45 and 51 laps completed respectively. On lap 59 caution was brought out with an incident between Jackson and Byrnes in corner 2. Jackson was sent to the back. Carter came back on track during the caution.
Now down to 10 cars with 15 laps remaining and Wilson restarting in the lead, with Passer and Van Hoek behind we saw two more laps of green flag then caution flew. Jake Irwin hit the front guardrail, finishing off his run for the big prize. The next restart saw a couple more laps, then another caution, this time it was Van Hoek running 3rd with some slipping then slowing and stopping on the track near corner 3, bringing out the caution. Van Hoek went to the rear.
63 complete, 10 to go. Wilson restarting in the lead, Passer 2nd, Ritchie 3rd and Dan Byrnes 4th. A few more green flag laps then Byrnes slid out of corner 4, running 3rd in front of Ritche into the infield. Byrnes left with 69 complete. Van Hoek left during the caution as well.
Now down to 7 cars and just 4 laps to go. After the restart, everyone was giving it their all. #77 Chase Wilson took the win and the big $10,000 cheque. #17 Brandon Passer takes 2nd with $4,000, #3r Shawn Ritchie came 3rd with $2,500, #61 Dustin Jackson 4th with $1500, #73 Mike Miller 5th, #50 Rob Hiiemaa 6th. #29 John Carter also crossed the finish line for the checkered flag, but was 14 laps down after leaving the track and coming back during a later caution.
It was an excellent race. With all the cautions and delays it took 1hr & 10 min to complete from start to finish. We also took some time with driver awards and presentations on the front stretch.
In the division points championship Chase Wilson took 1st place with 164 points. Dustin Jackson snagged 2nd place, and Rob Hiiemaa takes the 3rd place trophy.
Lakeway Automotive Factory Stock Division:
We had a dozen Lakeway Automotive Factory Stocks in the pits for the night's events. Ron Raynor was out with the bright yellow R100 car for the first time this season. John Ross also brought out the 01 "General Lee" for it's first run of the season. Anthony Jones had the #63 truck out for a run as well.
Eleven Factory Stocks were out for qualifying. Fast qualifier was #01 John Ross with a time of 16.063 seconds. All eleven that qualified were within less than a second of each other, which promised us some competitive racing in the division. The Factory Stocks were out for two 10 lap heats and a 30 lap feature with a top prize of $750 to win.
In the first heat there were 10 cars out for the 10 laps. #51 Jamie Fox and #724 Mike Heinonen led them off from the start and raced each other right through all 10 caution free laps. Heinonen was able to lead lap 9, Fox led the rest including the one that counts the most. #12y Owen Brown was shown the black flag during the race for aggressive driving. Fox took the win, Heinonen 2nd, #12o Anthony Mannarino 3rd, #57 Rick Ellis 4th and #4 Dale Tucker 5th.
In Factory Stock heat 2, there were 11 cars up on the track. Jamie Fox and Mike Heinonen led them off again. This time though, Fox was clocked with four lap times more than ¼ second less than his qualifying time and was shown the black flag and left the track. Heinonen and #4 Dale Tucker also left the track, maybe thinking that the black flag was for him? The last 4 laps were led by #77x Ed Lapish who took the checkers. Brown took 2nd, Mannarino 3rd, Ellis 4th, Ross 5th.
There were 10 cars out on the track for the 30 lap feature. Jamie Fox started at the back to avoid another DQ for the ¼ sec rule. Heinonen started at the pole, with #57 Rick Ellis outside. Right off the start cars went three wide on corner 1 with Mannarino up the middle between Heinonen and Ellis. They made it around the corner. Ellis slowed a bit going down the backstretch, as did Mannarino allowing #4 Dale Tucker and #77 Ed Lapish to get behind Heinonen. Cars went three wide again going through corner 3 & 4 and now Tucker was up beside Heinonen. Tucker managed a full pass and took over the lead. Cars were single file for a few laps, the order being Tucker, Heinonen, Lapish, and Brown. On lap 11 #01 John Ross had got past Brown and Lapish to take up third. Ross took a few laps working on Heinonen before he got past him moving into 2nd on lap 15. By this time Tucker had about a ¼ lap lead on him.
Lapish and Brown were racing each other for 4th place until lap 20 when caution flew. Mannarino came to a rest on the top of corner 4 with his engine blown. Mannarino's night was done. On the restart, #63 Anthony Jones spun in corner 1 at the back of the pack, bringing out the caution again. Jones unable to get it running properly again limped off the track. This left 8 cars complete the last 10 laps.
On the final restart of the race, with 10 laps to go Tucker rocketed off again with Ross in tow. Within a couple laps, a gap opened up between the front two and 3rd place Lapish racing with Brown right behind. As the laps wound down, Fox got up into the mix with Lapish and Brown fighting for 3rd. Tucker took the checkered flag and the $750 to win, a few car lengths ahead of Ross in 2nd. As they rounded corner 4, Lapish was running 3rd, with Brown right behind and Fox outside Brown. Brown poured it on a bit hard and spun the car and went sideways down the infield, past the finish line and coming to a rest in the lawn tractor track in the infield. Lapish secured third, Fox 4th, #15g Andrew Givens 5th, Rick Ellis 6th, and Mike Heinonen 7th. Brown was credited 8th officially with a DNF (did not finish) as he didn't cross the start finish line on the track.
Going into the race weekend #08 Brad Bibeau was in the points lead for the championship. Bibeau was out of town for the weekend leaving Brown and Mannarino both within striking distance to gain the championship. With the rainout of Friday, the task was still doable for both drivers, but they both had to finish well in Saturday's races. With Brown getting DQ'ed in heat 1, he lost the ability to close the gap by at least 5 points. Brown needed 4th or better in the feature to get ahead of Bibeau in the standings; with his last corner spin trying to fend off Fox he didn't get there. As the saying goes "Close but no cigar." It was likely a tough pill to swallow for the young man, but there will certainly be other opportunities for Owen to get there. Mannarino also was still within striking distance of the championship down to the last race. He needed a 3rd place or better finish but luck ran out along with his engine. So #80 Brad Bibeau is the Lakeway Automotive division champion for the 2023 season, with 177 points. Brown takes 2nd place just 3 points behind, and Mannarino 3rd 4 points back of Bibeau.
NAPA Reyco Automotive Modified Division:
In the NAPA Reyco Autmotive Modified division we had 11 cars out for qualifying. Fast qualifier was #22 J.P. Delpaggio with a time of 15.425 seconds. We had two 10 lap heats and a 30 lap feature with $750 to win during the night. Roddy Bolduc made his season debut in the #79, and Glen Irwin was in the #21.
In the modified first heat 9 cars were out. #73 Randy Larrett and #7 Terrance Devon started the race at the front. On the first lap Larrett slid up corner 2 and by the time he recovered was at the back. Larrett then brought out the caution with a spin through corner 4. It was a complete restart so Larrett was at the front again. Once again Larrett pushed up on the first corners, this time with #97 Devin Service forced up the track and into the tires at the end of the safety barrier at the beginning of the backstretch. Service was unable to continue, and Larrett was given the black flag.
Devon restarted at the front, this time with #78 Jason Herrington beside him. Herrington took the lead at the green and got out front of the rest. Devon maintained 2nd and #28 Mark Porpealia 3rd through lap 7 then Devon had problems and left the track. At the end Herrington had the win, Porpealia 2nd, #84 Mark Laakso 3rd, #22 J.P. Delpaggio 4th, #01 John Ross 5th, and #21 Glen Irwin 6th.
In the Modified second heat ten cars were out with Devon and Herrington at the front to take the green. The pair raced side by side for a couple laps then Herrington got out in front of Devon. On lap 4, #28 Mark Porpealia, who had started 3rd, was seen fishtailing a bit out of corner 4 and had control problems up the front stretch into corner 1, Porpealia ended up spun out into corner 2. Porpealia was sent to the back for the restart. The race restarted but before another lap was complete Larrett was slowing into corner 1 and Service may have got into the back of Larrett as a result, sending Larrett into another spin on the top of corner 2. To avoid a wreck, service went above Larrett and slid up off corner 2. Caution flew and both left the track. Larrett wasn't seen in the feature later on.
Herrington had the lead for the restart and now had #84 Mark Laakso running second. After a couple laps #01 John Ross had got past Devon and Laakso to move into 2nd. Then caution flew again on lap 5 with a spin by #78 Roddy Bolduc between corner 3 & 4. Bolduc left the track. The last 5 laps of the race went caution free with #78 Jason Herrington maintaining the lead to take the win. #01 John Ross was 2nd, #84 Mark Laakso 3rd, #22 J.P. Delpaggio 4th, and #21 Glen Irwin 5th.
In the 30 lap Modified feature 9 cars were out for the race. #7 Terrance Devon and #78 Jason Herrington led them off. This time it was Devon that got off to a good start and took the lead for the first 4 laps. On lap 5, #84 Mark Laakso took over top spot. Devon maintained 2nd until he was passed on lap 8 by J.P. Delpaggio. Devon slid back a few more positions as the race progressed. Herrington was running 3rd. The leaders Laakso and DelPaggio ran nose to tail for lap after lap with Herrington and #21 Jake Irwin racing each other about 10 car lengths back. DelPaggio was working hard to get around Laakso but couldn't do it until the pair ran into lap traffic of #28 Mark Porpealia. Laakso got stuck behind Porpealia on lap 20 and DelPaggio took advantage and passed them both on the outside.
The race progressed caution free with Laakso unable to get back up to DelPaggio to attempt a pass. Herrington and Irwin traded third a couple times through the final laps as they too got mixed into lap traffic. At the end of 30 laps #22 J.P. DelPaggio had the checkered flag in hand, and the $750 to win. #84 Mark Laakso came up second about 2.2 seconds behind. #78 Jason Herrington pulled up 3rd, #21 Jake Irwin 4th, #79 Roddy Bolduc 5th, #01 John Ross 6th, #7 Terrance Devon 7th, and #28 Mark Porpealia along with #97 Devin Service were 8th and 9th respectively, both a lap down.
In the NAPA Reyco Automotive Modified division season points championship, it was Jason Herrington that took first place. Mark Laakso finished 2nd just 5 points behind Herrington. Mark Porpealia took third in the season standings.
Northland Autobody Factory Four Division:
We had a great showing of Northland Autobody Factory Fours. There were 16 cars out for qualifying. Fast qualifier was Dyllen Sherrard with a time of 17.519 seconds around the 1/3 mile paved oval. New drivers in the field included #02 Dylan Couturier and his brother #86 Dustin Couturier. Also driving in the division was Tyler Parsons, a nephew of Mike Parsons. Tyler previously drove in the Factory Four and Modified divisions at Laird. During the night Tyler was piloting the #70 car of Logan Lavoy.
The factory fours were split into two groups for their heats. The groups were broken down by qualifying times into a faster and slower group. The faster group was out first, with 9 cars running. #94 Seth Ralph and #20 Matt Lewis started at the front. Seth held the lead for two laps before getting passed by 4th place starter #22 Shanna Harten. Ralph lost a few positions to #05 Tyler Praysner, #21 Daryl Whitmell, and #12 Fern Mannarino within the next couple laps. The race ran caution free with Harten taking the win. . Praysner and Whitmell did battle for the 2nd position with Whitmell eventually taking it. Praysner took 3rd, Mannarino 4th and #16 Dyllen Sherrard 5th.
The second group of Factory Fours out for a heat were 8 in number. #22 Adam Lapensee and #42 Jack Lannigan led them off with Adam taking the lead. Adam led three laps, each one exceeding his qualifying time by more than ¼ second so he was shown the black flag and left the track. Lannigan took over the lead on lap 4 and held on until lap 7 when he was passed by #17 Shawn Desjardins. Desjardins maintained that lead to take the checkered. #02 Dylan Couturier got past Lannigan on the last lap to take 2nd place. Lannigan 3rd, #4 Kayleigh Tucker 4th and #70 Tyler Parsons 5th.
The second to last race of the night was the 20 lap Factory Four feature with 17 cars taking part. Leading the group off were #42 Jack Lannigan inside, and #4 Kayleigh Tucker outside. Lannigan managed to lead the first lap before being passed by #05 Tyler Praysner who started 8th. Praysner got out front and started opening a gap on second place runner #94 Seth Ralph. Praysner started lapping slower cars by lap 7. Ralph held on to 2nd place until lap 8 when he was passed by #7 Christopher Viotto, #21 Daryl Whitmell, and #22 Shanna Harten. On lap 10 #22 Adam Lapensee pulled down into the infield on the backstretch and stopped. A short bit after that, Viotto spun in corner 4 and slid into the infield and was done. Caution was not pulled out for either car as they were out of the way.
On lap 12 Harten got around Whitmell to take over 2nd. At this point Praysner was about a half lap ahead. Caution flew next lap though when Harten got tagged and put into a spin in corner 1 as she was passing lap traffic of #02 Dylan Couturier. Couturier was sent to the back on the restart and Harten got 2nd place back for the restart.
Caution was out again immediately after the restart. Praysner had started at the front, with Harten inside, and Whitmell outside in the second row. As they came up the front stretch Harten had cleared Whitmell and started to move up to start a charge to Praysner. Whitmell went low and as they rounded corner 1, Whitmell hit Harten's left rear hard sending her into another spin. Whitmell was sent to the back for the restart.
For the restart with 12 laps complete, Tyler Praysner had the pole, with Harten inside, and now #16 Dyllen Sherrard outside in row 2. In row 3 was #12 Fern Mannarino and #94 Seth Ralph. Harten got a good start behind Praysner and held second for nearly a lap then slowed drastically coming out of corner 4, lost power or maybe a tire down? This relinquished 2nd place to Sherrard with Mannarino right behind. The laps wound down with no one able to get near Praysner. Praysner took the win, Sherrard 2nd, Mannarino 3rd. #20 Matt Lewis made a last lap pass of Ralph for 4th, Ralph was 5th, Whitmell 6th.
In the points championship for the division #05 Tyler Praysner took top spot with 214 points. Praysner won 5 out of 6 features during the short season. #16 Dyllen Sherrard grabbed 2nd, 9 points behind Praysner. Third place finisher was #12 Fern Mannarino.
AIM Recycling Enduro Division:
The AIM Reclycling Enduro Division had a qualifying session early in the evening that included eight cars. Fast qualifier was #19r Jacob Ritchie with a time of 19.201 seconds.
The last race of the evening was the 15 lap Enduro feature. Sixteen cars were up and out on the track for the caution free event. Front row starters were #77x Teagan Lapish and #21+ Sam Botang. #101 Ryan Sharpe starting 3rd got past both to lead the first lap and held the lead for the first 8 laps.
With a lap complete #79 Cody Herrington got nailed into a spin by #68t Trevor Reid. Herrington then got hit by #44 Eric Sylvestre. Both Herrington and Sylvestre were done at that point. A lap or two later Reid also fell out of the race. Sharpe in the lead began lapping cars on lap 7 but was shown the black flag for overrunning his qualifying time by more than ¼ second for three laps. Ritchie started 8th and made his march to the front taking over the lead from Sharpe on lap 9. A couple laps later though Ritchie got tied up behind lap traffic and got passed by #86 Dylan Connolly for the lead. Ritchie caught back up and made a couple attempts to take over top spot, but ran out of time. Dylan Connolly got the win, Ritchie 2nd. #6 Francis Johns took 3rd, #83 Jon Hill 4th, #4 Taylor Larrett 5th. All 5 were on the lead lap. The remaining drivers in the race were all a lap down.
We implemented a simple points system for a championship for the Enduro's this season. #19r Jacob Ritchie and #86 Dylan Connolly were tied for first with 25 points each. Ritchie has 3 wins vs. Connolly's 2 wins so Ritchie will be the season champ in the division. Connolly is 2nd and 3rd place will be #83 Jon Hill with 17 points. It was really fun watching the Enduro's through the season. It's a great division to learn in without costing a lot.
Our Thanks!:
Our night ran a little long and we finished at about 11 pm. We limited our intermission activity to just a Lawn Tractor race. We also had a Lawn Tractor race at the beginning of the night. Thanks to the guys and gals at the Algoma Lawn Mower Racing Association(ALMRA) for the intermission entertainment during the season! Visit them on Facebook.
Three lucky kids went home with new bikes after the race night, and we emptied the announcers booth of hats, tshirts, pillows and other giveaways by the end of the night.
All-in-all it was a short season at Laird. We originally had planned 8 race nights with a couple nights put aside as rain dates (in the schedule as "To Be Announced"). We got 6 race nights in, and all were great shows. The Management and Staff at Laird International Raceway thank our drivers and especially our fans for showing up in great numbers for every race this season. It's great to see! We are pleased that interest in local Stock Car Racing is alive and well in our area.
We also thank our numerous sponsors for helping us to put on the shows and maintain the track. Our sponsors logos and links are shown at the bottom of our website, scroll down to view them and don't forget to support them when you can.
For news and information during the off season be sure to visit our website at www.lairdraceway.com and our facebook page at https://www.facebook.com/lairdraceway
Photos and videos from this and previous race seasons can also be viewed on our website under the "media" menu item. Final season points standings are also available under the "Points" menu item. Results for individual races can be found by going to our schedule and clicking on the individual events.
Thanks & see you next spring!
---
Article Credit: Tom Stephenson
Submitted By: Tom Stephenson
Article Media
Back to News