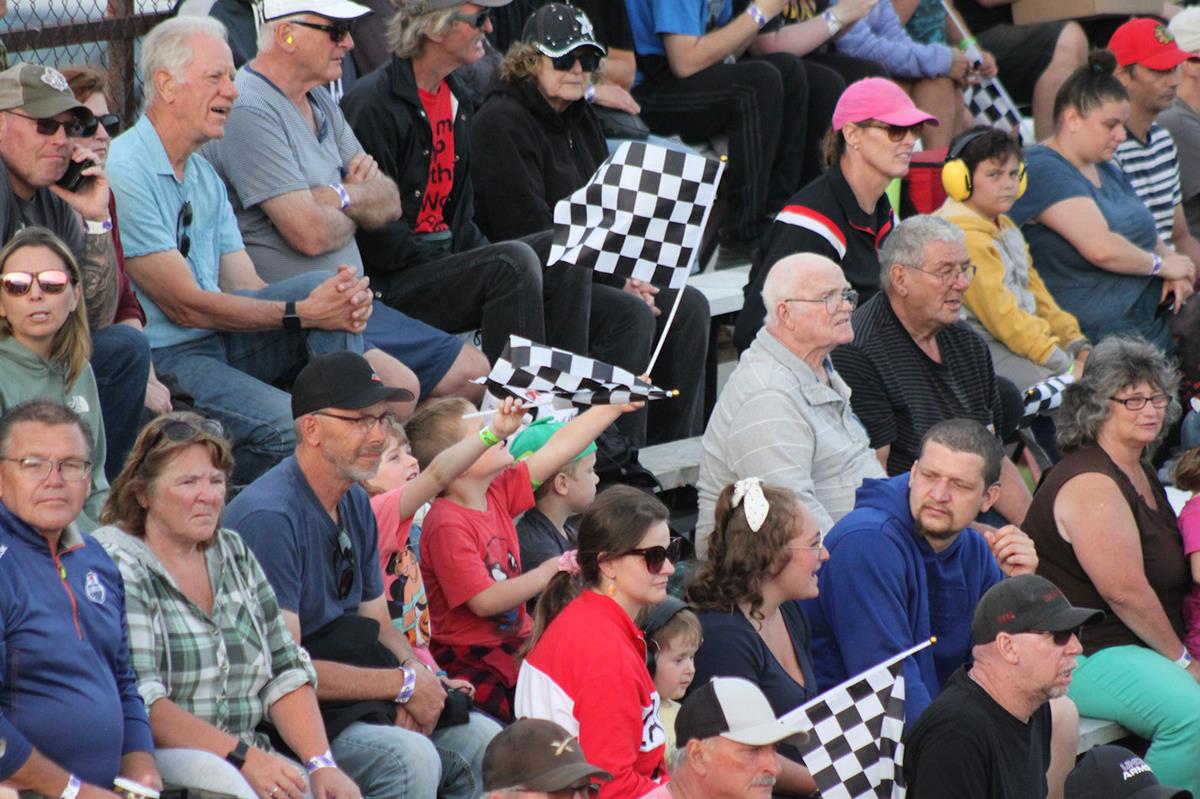 ---
It's Shaping Up to be a Doozy of a Weekend at Laird Aug 25th & 26th.
Here is some more information about what is happening at Laird International Raceway this weekend coming, Friday August 25th, and Saturday August 26th. We have a full night of racing on Friday night with "Friday Night Frenzy", then more on Saturday with the Ledcor Group Mike Parsons Memorial. Among our other regular divisions, the weekend with highlight our Service Rentals and Sales Super Late Model division with a 73 Lap Mike Parsons Memorial Race on Saturday night with a huge payout purse for participants.
Payouts for the Mike Parson's Memorial Service Rentals and Sales Super Late Model division feature on Saturday will be as follows:
$10,000 to the winner
$4,000 for second place
$2,500 for third
$1,400 for fourth
$1,000 for fifth to 20th
In addition there are bonus payouts during the race:
$500 as the "Hard Charger" award – given to the competitor moving up the most positions during the race
$100 for the leader on each of laps 20, 30, 40, 50, and 60.
The fast qualifier for the night will be given a $200 payout as well.
What payouts at this level means is that there will be more drivers competing harder to get the big money. Everyone should be on their "A" game through the entire weekend. Woo hoo!
We will have a number of competitors from out of town including:
#3 Dario Caprichio – from Gilford, ON – Dario took home the big payout at the event last year, will he be able to repeat?
#17 Brandon Passer – from Innisfil ON
#51 Ethan Courneyea.
Both Brandon and Ethan were at last years event and did well. Expect them to do even better this year, being a bit more familiar with the Laird 1/3 mile oval.
There could be more out of towners added to the list before the weekend too. As if the payouts weren't enough, any Super Late Model driver coming from outside our local area, ie. Southern Ontario or Michigan, will receive $250 tow money to help cover costs of getting their equipment to the track. If you are a driver that would like to participate during the weekend, contact Shauna at shauna@lairdraceway.com, or call 705-759-3781 during working hours to register. It's not too late!
Our regular season late model drivers that will be attending include:
#61 Dustin Jackson
#77 Chase Wilson
#21K Kevin Errington
#50 Robert Hiiemaa
#29 John Carter
#21 Jake Irwin
#95 Daryl Weisflock
#100R Jeremy Van Hoek
#46 Dan Byrnes
#826 Jordan Parniak
#3R Shawn Ritchie
#88 Randy Lapossie
Not only will these drivers be giving it their all for the big money, but they will also be racing for Season Championship points and positions. It's going to be hot, no matter what the temperature is.
In our NAPA Reyco Automotive Modified, and Lakeway Automotive Factory Stock divisions, Laird promoter Donnie Varcoe is upping the payouts for the winners on Saturday night to $750 in both divisions. That's going to spice the pot and make the competition even fiercer than it has been all season. That's really fierce!
Our weekend is sponsored by Service Rentals and Sales, as well as Ledcor Group.
Besides sponsoring the weekend, Service Rentals and Sales has sponsored the Super Late Model Division this season. Since 1983 Service Rentals & Sales has been providing top-notch equipment and services. Besides equipment rentals and a wide range of construction supplies for both commercial and residential customers, the company has expanded over the years to also provide protective equipment, safety clothing and signage. They are also your local dealer of Mahindra tractors and are offering $0 down, and 0% interest on new Mahindra tractors during the month of August. Mahindra is a sponsor of NASCAR's Chase Briscoe, driver of the No. 14 Mahindra Tractors Ford Mustang for Stewart-Haas Racing. You may have seen the TV commercials that feature Tony Stewart exclaiming he is the GOAT (greatest of all time), with Chase in the bucket wanting down.
Service Rentals and Sales also offer repair and warranty services for various other equipment brands; offer safety training; and most recently have expanded their offerings to include selling and servicing boats, ATV's, Equipment trailers, and Utility Trailers. Check them out online at www.servicerentals.ca and look for their displays at the track.
The weekend is also sponsored by Ledcor Group. Ledcor is a large corporation with over 6,000 employees in North America. Locally they are the folks responsible for highway maintenance, contracted by the MTO; including snow plowing during the winter months. Ledcor will have a SNOW PLOW SIMULATOR set up at the track over the weekend for kids and adults to go in and see what it is like to operate a highway snow plow. Very cool!
Service Rentals and Sales Friday Night Frenzy and the Ledcor Group Mike Parsons Memorial Saturday will undoubtedly provide local fans with the best racing of the season! What a great way to finish. Don't miss it.
Visit the Laird Raceway Facebook page for more updates as the weekend arrives… www.facebook.com/lairdraceway
See you at the track!
---
Article Credit: Tom Stephenson
Submitted By: Tom Stephenson
Article Media
Back to News