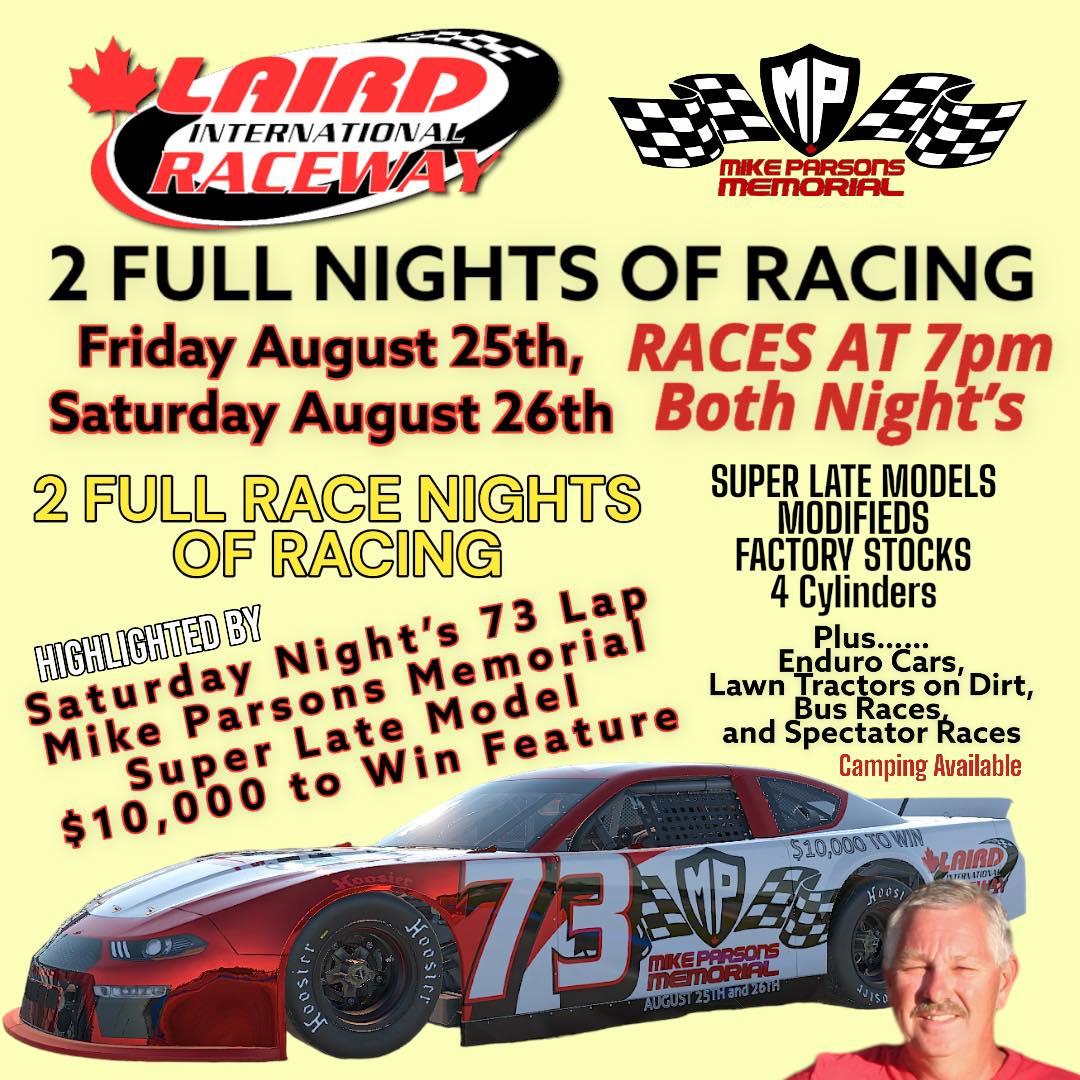 ---
Big Two Day Weekend Season Finale – Aug 25 & 26th - Don't Miss It!
We have just two racenights left at Laird International Raceway with a two day Mike Parsons Memorial weekend event happening on Friday August 25, and Saturday August 26th. Each night will be a jam packed full racenight with heats and features, plus intermission activities. Racing begins at 7pm both racenights.
Saturday night's main event will be the Mike Parsons Memorial Race, a 73 lap Service Rentals and Sales Super Late Model feature that will include a number of top racers from out of the area. The Late Model drivers in the race will be competing for a $10,000 to win purse. Last season's winner was Dario Capirchio from Gilford Ontario. Will he be back to try and take the big purse again? Come on out and see!
The weekends races will also be the last chances for our regular season racers to gather points trying to move their way up in our season championship standings. Who will make their way to the top in each of our 5 divisions?
For all divisions points are awarded to drivers for each race they compete in, plus for divisions other than Enduro, at least a point for qualifying. For all divisions except the Enduro class, drivers are awarded between 10 and 5 points in heat races, depending on their positions. In features drivers are awarded between 20 and 12 points. For qualifying 3 points are awarded to top qualifier, 2 for 2nd, and 1 for other competitors.
In the Service Rentals and Sales Super Late Model Division, there are three drivers that will be battling to make their way to the top trophy. Going into the Friday night events #77 Chase Wilson finds himself at the top of the standings in the division with 142 points. Just 8 points back of Chase is #61 Dustin Jackson with 134, then #50 Rob Hiiemaa finds himself in 3rd, 22 points back from Wilson with 120 points. In fourth place is #5 John Ross going in with 98 points, and in fifth is #29 John Carter with 96 points. Both Ross and Carter may be able to move their way into the top 3 should disaster strike or there be a no-show of Wilson, Jackson or Hiiemaa. The addition of visiting drivers over the weekend may also make a difference in point spreads for our regular season drivers.
In the NAPA Reyco Automotive Modified Division the point spread between the current top three drivers is even closer. Going into the night at the top of the standings is #78 Jason Herrington with 164 points accumulated. Just 2 points back of Herrington is #84 Mark Laakso with 164 points in second place, then just 8 points back of Herrington is #28 Mark Porpealia with 156 points. The pressure will be on each of these drivers to finish each remaining race in front of the others, either to gain a few points, or at least maintain their positions in the points spread. Also in the division are #73 Randy Larrett, with 133 points, 31 points back of the leader and #7 Terrance Devon with 128 points, 36 points behind leader Herrington. Both Larrett and Devon have shown improvements over the season and have become top contenders. Also in the mix likely to steal some points and positions are J.P. Delpaggio, #17 Keith Horner, #90 Jay Palumbo, and #97 Devin Service – all of whom have either got off to a late season start, or missed races during the season. This division will likely prove to be the most competitive during the final two race nights.
In the Lakeway Automotive Factory Stock Division #80 Brad Bibeau is at the top of the standings going into the finale weekend events with 177 points. In second place in the division is #12Y Owen Brown, with 151 points, 26 points back. With that much of a spread, Brown will need Bibeau to be a no-show for a couple races to make up the difference to gain top spot. Even if Bibeau has a major breakdown and is unable to run, it isn't uncommon for a driver to borrow a car from another driver just to avoid falling back and losing the championship. It's not over 'til it's over though, so no telling what will happen. To maintain 2nd spot in the championship Brown will have to stay ahead of Rob Wagner with 144 points, just two points behind him, and #12o Anthony Mannarino with 144 points, 4 points behind Brown. In fifth place going into the weekend is #77X Ed Lapish with 128 points; and in 6th is #67 Jarritt Varcoe. Other drivers that could get into the mix will include #08 Dan Bibeau who has been plagued with mechanical problems this season, #51 Jamie Fox who had a late season start, veteran #57 Rick Ellis, or #15G Andrew Givens who has shown a huge improvement over the season.
In the Northland Autobody Factory Four division the championship will likely go to either #05 Tyler Praysner, going in with 184 points, or #16 Dyllen Sherrard going in with 177 points, 7 points back of Praysner. A second battle in the division will likely unfold over the weekend for the 3rd place season finisher; #12 Fern Mannarino is going into the weekend with 140 points, 44 points behind Praysner. Mannarino will likely be fighting to maintain his current third place position, trying to hold off #20 Matt Lewis with 132 points; and #42 Jack Lannigan with 129 points, each 8 and 11 points behind Mannarino respectively. Drivers that might get between the mix to spread the points a bit are #22 Shanna Harten who has suffered a lot of bad luck through the season, #21 Daryl Whitmel, #8 Gord Badgero, #94 Seth Ralph, and #22x Adam Lapensee.
The AIM Recycling Enduro Division had a simplified points system implemented this season for their feature races. Points are awarded for cars starting the race. Six points go to top place finisher, 5 to 2nd, 4 to 3rd, 3 to 4th, 2 to 5th, and 1 point for 6th back. Going into the finale weekend #19R Jacob Ritchie has won a few races and has accumulated 20 points. #86 Dylan Connolly is one point back with 19 points in 2nd. Watch for these two trying to stay ahead of one another for their last two races. #83 Jon Hill currently holds 14 points with #79 Cody Herrington one point further back with 13 points. Rob Morrision currently holds 12 points in 5th place and has proven in past races that he can get to the front. Eric Sylvestre in the #44 has also shown consistency and holds 8 points in 6th place. With two races remaining the maximum points that can be won are 12 points (6 points for a win in each race) with a minimum of 2 points (assuming both races are run). More so than in the other divisions the final standings are unpredictable in this division. As we saw with a scary collision a couple weeks ago, cars can be taken out of the race, even when they are in the lead.
Camping is available for the weekend for those coming from out of town, or those wishing to stay the weekend to avoid the drive back and forth from home. Contact Shauna at (705) 759-3781 during business hours for details, pricing, and to get a spot assigned.
Additional details about the weekend will be posted over upcoming days and can be found on the Laird Raceway Facebook page at https://www.facebook.com/lairdraceway
Come on out for your last chance at watching some exciting local Stock Car Racing this season!
---
Article Credit: Tom Stephenson
Submitted By: Tom Stephenson
Back to News