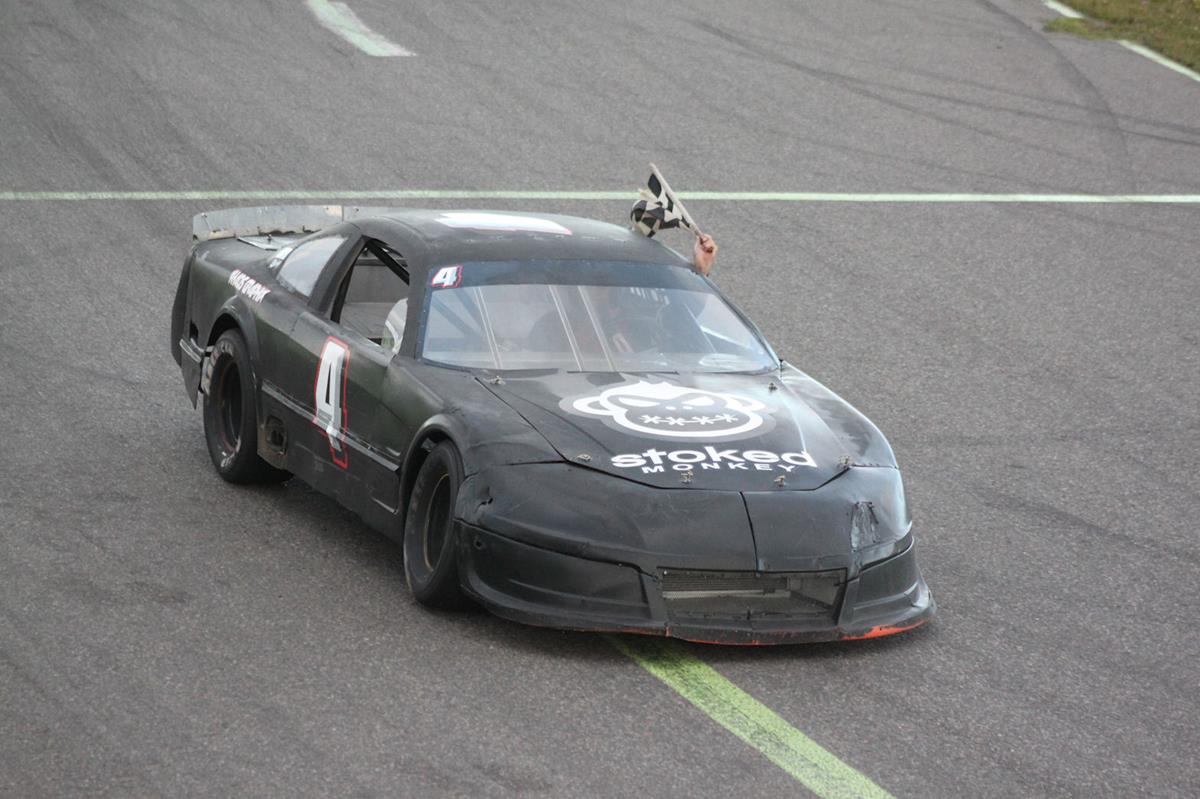 ---
It Just Keeps Getting Better! Racenight Recap for Thursday Aug 10 2023
Racenight Recap for Thursday August 10th.
Our Thursday Night Thunder show on August 10th saw another record sized crowd on site, in excess of 3500 fans and race team members, along with approximately 65 cars in the pits for our 5 race divisions. Weather during the evening started out sunny with seasonal comfortable temperatures, and a bit breezy. As the evening progressed and some clouds started to hover over it got a bit cooler. The days are obviously getting shorter with the track lights now coming on at intermission before the features begin.
Announcers for the evening were once again Greg Brazeau and Oval Reving. The Service Rental Super Late Models were brought on track for their heat, opening ceremonies were held, Greg Brazeau did some driver introductions on the front stretch and racing began shortly after 7 pm.
Service Rentals Super Late Models:
We had 9 cars out for qualifying in the Service Rentals Super Late Model division earlier in the evening. Fast qualifier was #77 Chase Wilson with a time of 14.418 seconds around the 1/3 mile paved oval. Out for the first time was Brad Bibeau, driving the #61X. The Late Models ran one 10 lap heat and a 20 lap feature during the night.
In their heat, #21 Jake Irwin started inside front row with #50 Rob Hiiemaa outside. At the green, Hiiemaa took the lead while Irwin slid back a few spots. Hiiemaa had #100R Jeremy VanHoek trying to take the lead for the first laps. On lap 5 as they were going through corner 2, VanHoek and Hiiemaa got together sending Hiiemaa into a spin into the beginning of the backstretch and VanHoek up and nearly off the track. VanHoek was sent to the back for the restart and Hiiemaa took up front position, now with #61 Dustin Jackson alongside. The race went green for another lap then caution was out again, this time with #46 Dan Byrnes, getting a bit loose coming out of corner 4, then fishtailing up the front stretch and stopping infield near corner 1. Byrnes restarted at the back. Hiiemaa and Jackson restarted with Hiiemaa taking the lead once again. Jacskson made a few attempts inside and outside to get past Hiiemaa but was unable to do it. Hiiemaa took the win, Jackson 2nd, VanHoek 3rd, and #29 John Carter 4th.
In their 30 lap feature, 11 Service Rentals Super Late models were out to take the green flag. #21 Jake Irwin opted to start at the back this time, which put #61 Dustin Jackson outside of #50 Rob Hiiemaa on the start. On the first lap of the race, with Hiiemaa a nose ahead of Jackson, the two got together coming out of corner 2 and Hiiemaa went into a spin in front of the pack. Also caught in the incident were #100 Jeremy VanHoek, #77 Chase Wilson, and #21 Jake Irwin. Irwin and Hiiemaa were unable to restart. Wilson with a tire down went to the pits and was back out for the green, but had to restart at the rear.
With Hiiemaa gone, now it was #21K Kevin Errington and #46 Dan Byrnes starting at the front with Dustin. Dustin got out front fast with Errington a couple car lengths behind for a few laps. Byrnes was running third, with Wilson, having moved up quickly, working to get around him. On lap 9, Wilson got past Byrnes, but by now Jackson was about a third of a lap ahead, still with Errington keeping up within a car length or two behind Jackson. As the race progressed Wilson was closing the gap. On lap 24, Errington, about 6 car lengths behind Jackson went into a slide into corner 3, bringing out the caution and sending Errington to the back.
Jackson restarted at the front, now with Wilson inside 2nd row, and VanHoek outside. Jackson and Wilson put on a show. Jackson in the lead left nothing inside or out for Wilson to get by. Jackson took the win, with Wilson 2nd, just a 1/10th of a second behind. VanHoek was 3rd, Byrnes 4th, #29 John Carter 5th, #21K Kevin Errington 6th. #61X Brad Bibeau had a spin going through corner 3 on the last lap and claimed 7th. #3 Shawn Ritchie 8th – a lap down. #95 Daryl Wiesflock was also running but pulled off with 4 laps completed.
Lakeway Automotive Factory Stock Division:
There were 10 cars out to qualify in the Lakeway Automotive Factory Stock Division. The fast qualifier was #67 Jarritt Varcoe with a time of 16.194 seconds. The slowest qualifier for the night was less than ¾ of a second behind. It's a very competitive division. The cars ran two 10 lap heats and a 25 lap feature with $750 to win. Anthony Jones with the #63 orange truck was also in the pits during the evening but had issues during hot laps and was unable to run for the night.
In their first 10 lap heat, all ten qualifiers were on the track. #51 Jamie Fox and #77 Ed Lapish started in the front row. #12Y Owen Brown took up second place from Lapish on lap 3 then caution flew on lap 4 with a spin through corner 4 by #4 Dale Tucker. The race restarted and at the end of the remaining laps Fox had the win, Brown 2nd, Lapish 3rd, #12o Anthony Mannarino 4th and #08 Dan Bibeau 5th.
In the second heat, just 6 cars took part. Missing from the action were #08 Dan Bibeau, #80 Brad Bibeau, #88 Rob Wagner, and #67 Jarritt Varcoe. Once again Fox and Lapish started at the front. Caution flew on lap 3 with a spin by Brown through corner 2. Fox and Lapish were still up front on the restart, with Fox taking the lead again. On lap 5 Lapish lost a couple spots to #4 Dale Tucker, and #15 Andrew Givens. Tucker got up beside Fox then on lap 7 was able to take over the lead and then hold it for the last laps. It was Tucker's first win in the Factory Stock Division. Jamie Fox finished 2nd, Owen Brown 3rd, Andrew Givens 4th (just 5/100ths behind Brown), Ed Lapish 5th, and Anthony Mannarino 6th.
The factory stocks were first out for their 25 lap feature following intermission. All 10 cars were back out, with #51 Jamie Fox, and #77 Ed Lapish leading them off in the front row. A couple laps in and Fox held the lead with Lapish moving back to third after being passed by #88 Rob Wagner. As expected judging by their qualifying times, the rest of the pack were nearby and cars were seen going three wide a number of times. On lap 7, Fox had something break and slowed in corner 1, then went down out of the way, letting Wagner take over the lead, Fox left the track and no caution came out.
Wagner held the lead but within a few laps had the #08 of Dan and #80 of Brad Bibeau, along with #67 Jarritt Varcoe honing their sights for the lead. Wagner was passed on lap 11 by Dan, then Brad. A lap later Wagner fell back a couple more positions. As the race progressed Dan Bibeau opened a 6 car length lead on brother Dan and Varcoe racing side by side for second. On lap 20 there were some sparks coming out the back of #4 Dale Tucker as he rounded corner 1 and 2, which got worse going down the backstretch, ending with a spin through corner 3 with his left rear wheel flying off toward the beer garden on corner 4, and a fire under the left rear corner. The fire was quickly extinguished and the red came out to allow track crews to remove the car and clean up the track. Tucker was running in 5th at the time. This left 9 cars for the race restart a few minutes later.
The race restarted with 6 laps remaining. A couple laps more and caution was out again. This time it was #15 Andrew Givens stopped up against the back guardrail. Givens was out of his car and had some words for #12 Anthony Mannarino. The pair were running at the back of the pack and might have made some contact on the backstretch forcing Givens up. Another short delay while Givens car was towed off the track. We were now down to 7 cars for the restart and final 4 laps. Dan Bibeau started single up front with Varcoe inside and brother Brad outside row two. Dan got a good restart and quickly got a lead of two or three car lengths, while Brad and Jarritt fought each other for second. At the end Dan Bibeau had the win, and the $750 prize. Jarritt Varcoe finished 2nd, Brad Bibeau 3rd, #77 Ed Lapish 4th, 12Y Owen Brown 5th, #88 Rob Wagner 6th, and #12o Anthony Mannarino 7th.
NAPA Reyco Automotive Modified Division:
In the Reyco Automotive Modified Division we had two 10 lap heats, and a special 30 lap feature with $1000 to win. There were 11 cars out for qualifying with all clocking times less than 1 second of each other. Fast qualifier was #90 Jay Palumbo with a time of 15.196 seconds. The #21 car was piloted by Glen Irwin – his first time out this season.
In their first heat all 11 qualifiers were out. The race ran fast and caution free. At the front for the start were #7 Terrance Devon inside, and #73 Randy Larrett outside. Devon got off to a good start and held the lead for the first four laps until he was passed by #78 Jason Herrington. Devon then held on to 2nd until lap 8 then was passed by #17 Keith Horner, and #22 J.P. DelPaggio. Herrington won, Horner 2nd, DelPaggio 3rd, Devon 4th and #90 Jay Palumbo 5th.
Ten cars took part in the Modified second heat, with Devon and Larrett out front at the start. The race ran caution free again. Larrett got the jump on Devon at the start. Devon maintained 2nd until lap 4 when he was overtaken by #17 Keith Horner. A lap later Horner overtook Larrett to take over the lead. Devon slipped backwards through the rest of the race. At the end Horner had the checkered flag in hand. Larritt was 2nd, #84 Mark Laakso 3rd, #78 Jason Herrington 4th, #22 J.P. DelPaggio 5th, and #01 John Ross 6th.
Ten modifieds were out for their 30 lap feature with $1000 to win. Devon and Larrett started once again at the front. Larrett got the jump at the start. By the end of the first lap Horner had overtaken Devon much like in the previous heat. Larrett and Horner opened up a growing lead over the rest of the group over the first laps. On lap 7, Horner got inside of Larrett making a pass for first. The pair ran mostly nose to tail for the remainder of the race, with Larrett unable to get top spot back. Meanwhile #90 Jay Palumbo who had started near the back was making his way through the field patiently, moving up one car at a time. By lap 14 Palumbo had passed #84 Mark Laakso to take over 3rd place. By that point though Palumbo was behind the leaders by about 1/3 of a track. As the race progressed, Palumbo caught up to the leaders but there was no time left to attempt any passing. At the end the three leaders crossed the finish line with about 2 car lengths between them. Horner was first, Larrett 2nd, Palumbo 3rd, #21 Jake Irwin 4th, #22 J.P. DelPaggio 5th, #84 Mark Laakso 6th. Later in tech the two leaders were disqualified due to car issues, leaving the $1000 win to Palumbo. Others in the division moved up two positions in the finish order for the feature as a result. The tech issues found with cars at the end of the feature were more of a learning experience; likely an oversight rather than any purposeful rule breaking.
The racing in the Modified Division has improved visibly through the season. This night's modified races ran 50 laps total, with no cautions! In the feature, not only did they run caution free for 30 laps, but all cars finished on the lead lap. It is a very competitive division. Drivers such as Larrett, Horner, Devon, Herrington and others have made noticeable strides in their car setup and driving skills.
Northland Autobody Factory Four Division:
There were 13 cars out to qualify in the Northland Autobody Factory Four division. Fast qualifier was #05 Tyler Praysner with a time of 17.531 seconds.
Twelve cars were out for the first 10 lap heat. Starting up front were #42 Jack Lannigan and #22x Adam Lapensee. Caution flew before a lap was complete with a few cars making contact and spinning in corner 2; requiring a complete restart. The second attempt was better and the race then ran complete without further cautions. Lannigan led the first couple laps then was overtaken by #21 Daryl Whitmell who led for a couple. On lap 5 #16 Dyllen Sherrard took over the lead position. A lap later #12 Fern Mannarino moved past Whitmell to take over second. On lap 7 #05 Tyler Praysner got past Whitmell for third. Sherrard took the checkers, Mannarino 2nd, Praysner 3rd, Whitmell 4th, and #7 Chistopher Viotto 5th.
Twelve were out again for the second heat. Lannigan and Lapensee had the front row again. This time Lapensee led the first couple laps while Lannigan drifted back a few positions. Lap 3 saw #20 Matt Lewis take the lead for a lap then caution flew as Lewis went for a spin around corner 4 after making contact with #16 Dyllen Sherrard. Sherrard had moved up under Lewis on the backstretch and Lewis probably not knowing he was there turned down into him through corner 3. Lewis was sent to the back. As they were lining up preparing for a restart Sherrard raced around to get to the front and tagged the front corner of #22 Shanna Harten, sending himself into a spin, in turn hitting and spinning #7 Christopher Viotto. Viotto had to be pushed off the track.
On the restart, Sherrard found #05 Tyler Praysner racing him for the lead after a lap. Sherrard and Praysner ran side by side for the remaining laps. At the end Sherrard had the win by a nose. Praysner 2nd, #22 Shanna Harten 3rd, #12 Fern Mannarino 4th, and Whitmell 5th.
Eleven Factory Fours were out for the feature with #42 Jack Lannigan and #22x Adam Lapensee leading themoff. Caution flew with less than a lap complete as #94 Seth Ralph, who started 3rd, and Lapensee got together on the backstretch. Ralph spun in front of Lapensee up to the top of the track near the exit to the pits. #22 Shanna Harten also spun backwards, trying to avoid Ralph.
On the second attempt at a start caution flew again, this time as Ralph tagged the rear of Lannigan as the were approaching corner 3. Flagman Ron Schmidt then showed the black flag to Ralph and sent him to the pits for rough or erratic driving.
The third attempt at a start was successful and the race then ran the scheduled 20 laps caution free. Lannigan led for a lap before being overtaken by #05 Tyler Praysner who had started 6th. Lannigan then was passed by #22 Shanna Harten, and #12 Fern Mannarino over the next couple laps. Praysner opened up a gap over Harten of about 10 car lengths and held the lead through the race for the win. Harten worked hard and at the end of the race and finished just a car length behind Praysner for 2nd. Mannarino was about a half lap back for a third place finish. #16 Dyllen Sherrard was 4th, #20 Matt Lewis 5th. #22 Adam Lapensee was 7th a lap down, Lannigan 8th 2 laps down, #10.4 Andre Lapensse 9th also 2 laps down and #4 Kayleigh Tucker 10th, 3 laps down.
AIM Recycling Enduro Division:
Eight Enduros were out to qualify at the beginning of the evening. Fast qualifier was #79 Cody Herrington. Thirteen cars were out for the 15 lap feature at the end of the night. Race winner was #19R Jacob Ritchie, #86 Dylan Connolly 2nd, #101 Ryan Sharpe 3rd, #83 Jon Hill 4th, #21+ Sam Botang 5th and #79 Cody Herrington 6th.
Other Activities:
During intermission we had a crazy School Bus race, with wheels in the air around corners, and a couple of crunches. Bus drivers seem to be doing their best to ensure kids won't have a ride to school come September.
The Algoma Lawn Mower Racing Association ran another cool lawnmower race on the infield, and we held another session of Spectator Drags. We also gave away CCM Bicycle to Everly who was randomly selected from the grandstands.
Visit the Lairdraceway.com website and click on the "media" menu item to see photos from the racenight and to get a link to video posted on YouTube. Fans can also visit the Lairdraceway Facebook page for announcements and more information.
Our next racenight is scheduled for Thursday August 17th. There is only one regular scheduled race night left this season, plus the two day Mike Parson's Memorial event at the end of August. Don't miss any of them!
---
Article Credit: Tom Stephenson
Submitted By: Tom Stephenson
Article Media
Back to News