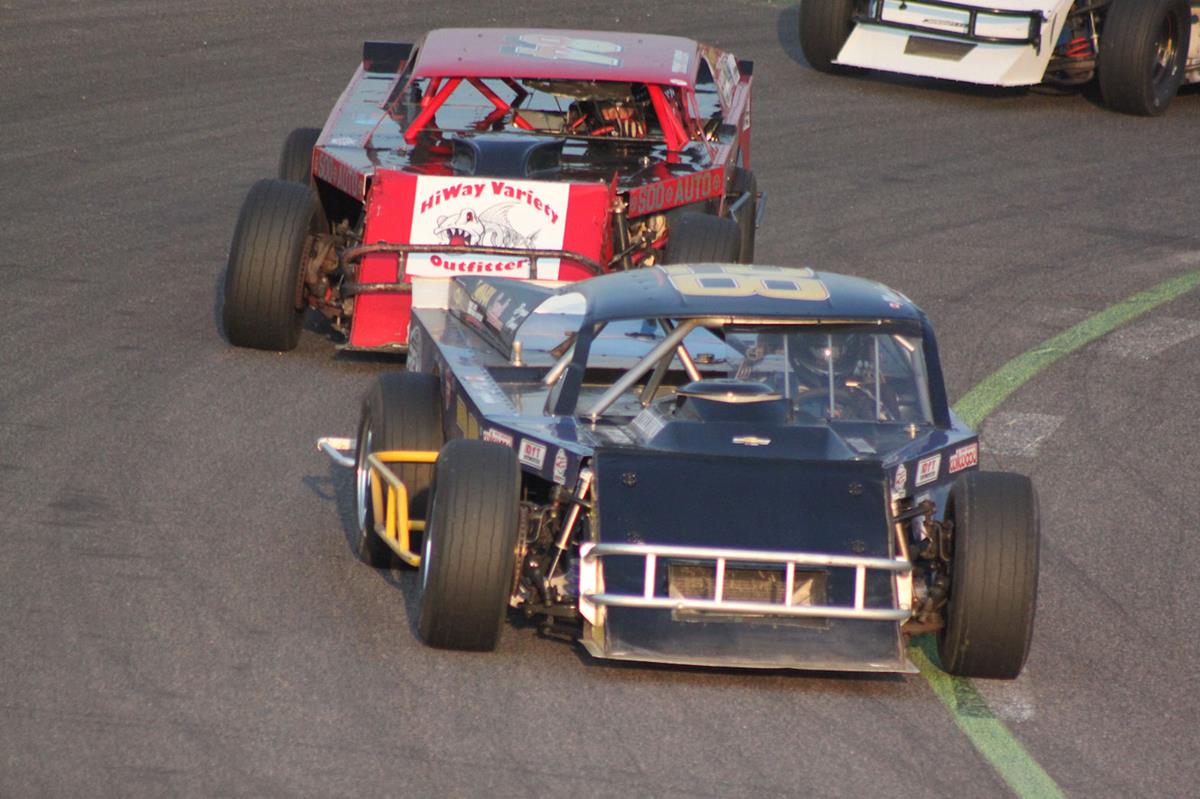 ---
Woo Hoo! More Outstanding Competition at Laird – Recap for Racenight #4
Racenight Recap for Thursday August 3rd.
It was another great racenight at Laird on Thursday Aug 3rd. Full grandstands, good car counts, fast and competitive action. We couldn't ask for better weather either. The forecasts at the beginning of the week were looking a bit bleak, but as often happens in our part of the world, forecasts are sometimes not that reliable. When raceday came, there was still some possibility of rain earlier in the day, but it didn't materialize. We started the night out with warm temperatures, clear skies, and a nice breeze.
At 7 pm 8 Service Rental Super Late Models came up on track and Rob Wagner, driver of the #88 Lakeway Automotive Factory Stock sang the national anthems. Announcer Greg Brazeau introduced the drivers on the track and the crowd gave the countdown for drivers to fire 'em up. Oval Reving accompanied Greg in the announcer's booth for the night. The evenings events began with a Service Rentals Super Late Model Heat.
Service Rentals Super Late Models:
Seven Service Rentals Super Late Models were out for the qualifying session earlier in the evening along with the #20 Modified of Mike Hearty. Mike's modified is set up for running at tracks in Southern Ontario and doesn't meet the rules for the Laird Modified division; so Mike was asked to run with the Late Models for the night. Fast qualifier was #50 Rob Hiiemaa with a time of 14.532 seconds. The Late Models ran one 10 lap heat and a 30 lap feature during the night.
In their 10 lap heat, right after opening ceremonies it was #826 John Parniak and #5 John Ross starting in the front row. Ross got a good start and with a lap complete found #61 Dustin Jackson running second. On lap 2 caution came out with a spin by #77 Chase Wilson onto the backstretch. Parniak was sent to the rear after the incident. Wilson left the track during the caution but came back on track before the green flag flew and rejoined the group at the back of the pack. Also during the caution #20 Mike Hearty stalled on the front stretch and was pushed off the track.
The race resumed and no further cautions came out. Hiiemaa left the track on lap 5. Ross continued his run at the front and took the win. John Carter in the #29 got past Jackson on lap 5 to finish 2nd. #100 Jeremy Van Hoek also passed Jackson to take 3rd. Jackson 4th, Wilson 5th and Parniak 6th.
All eight were back out for the Super Late Model 30 lap feature, right after intermission. Ross started at the front again, this time with Carter outside. Ross held a lead, and had Dustin Jackson right behind into lap 12 then coming around corner 3 and 4 Ross' car croaked and he rolled to a stop on the frontstretch bringing out the caution. Ross was done for the night. Parniak also left during the cuation.
With Ross gone, Dustin Jackson inherited the lead and Van Hoek restarted 2nd. The group completed another lap then on lap 13 Jackson's car slid out from under him running up the front-stretch, sending Jackson across the track and into the infield just before corner 1. Jackson left under caution, had a tire change then was back out. After green though, Jackson exited the track again with a continuing issue.
Van Hoek restarted at the front, with #77 Chase Wilson right behind. No further cautions flew and Van Hoek took the checkers. Wilson 2nd. Rob Hiiemaa took up 3rd on lap 18 and held that position to the end. #29 John Carter was 4th, and #20 Mike Hearty in the modified was 5th.
Lakeway Automotive Factory Stock Division:
The Factory Stocks had 10 cars out to qualify. Fast qualifier was Brimley Michigan driver #44 Chris Toms with a time of 16.069 seconds. The factory stocks ran two 10 lap heats and a 20 lap feature through the night.
In their first heat, the 10 qualifiers were joined by #724 Mike Heinonen. #15G Andrew Givens started inside front row, with #57 Rick Ellis outside. Givens maintained the lead for the first three laps, then on lap 4 cars went three wide coming out of corner 4, with Givens in the middle, #80 Brad Bibeau passing on the inside, and Ellis outside. As the three entered corner 1, still 3 wide, Bibeau and Ellis were ahead of Givens, still in the middle. Ellis went into a slide down in front of Givens through corner 1 and 2 forcing the caution out. Givens was sent to the back. On the restart Bibeau took over the lead with Ellis right behind and #12 Owen Brown beside Ellis. Givens left during lap 7. Bibeau opened a lead of about a quarter track by the end of the race and had the win. Brown running outside finished a nose ahead of Ellis for second, Ellis was 3rd, #4 Dale Tucker 4th, #51 Jamie Fox 5th.
In their second heat, Givens and Heinonen were absent leaving Rick Ellis inside and Rob Wagner outside in the front row to start. Caution flew on lap 3 with a spin by #12 Owen Brown off the nose of #80 Brad Bibeau in corner 2; Brown was sent to the back on the restart. Ellis maintained the lead until lap 7 when he was passed by #67 Jarritt Varcoe who then went on for the win. Ellis lost another position on lap 8 to Bibeau who took 2nd, Ellis 3rd, #44 Chris Toms 4th, and #88 Rob Wagner 5th.
All eleven were back out later for the Factory Stock 20 lap feature. Ellis and Wagner started front row again. With one lap complete, caution was out with a spin off corner 2 by Owen Brown, #4 Dale Tucker was sent to the back for the incident. Ellis maintained the lead for the first 5 laps then was overtaken by #67 Jarritt Varcoe. Ellis fell back another position on lap 8 when #44 Chris Toms got by him. #724 Mike Heinonen left the track on lap 8 under green as well. Varcoe and Toms battled at the front and developed a quarter lap lead over Ellis and Bibeau battling for third. On lap 16 Toms was able to get past Varcoe for the lead then caution flew when Ellis and Bibeau got together in corner 1. Bibeau was sent to the back for the incident and Ellis left the track for a tire change and also then restarted at the rear. Since the race reverted to the last completed lap, Toms restarted behind Varcoe. Green flew and Toms put up a battle but was unable to get past Varcoe again. #67 Jarritt Varcoe carried the checkered flag, #44 Chris Toms took 2nd, #51 Jamie Fox 3rd, #88 Rob Wagner 4th, and #80 Brad Bibeau 5th.
NAPA Reyco Automotive Modified Division:
In Modified Division action we started with 11 cars at the beginning of the night in qualifying, including #75 Tim Aho visiting for the first time in a few years. Fast qualifier was #90 Jay Palumbo running 15.292 seconds.
All 11 were out for heat race 1, which started with #7 Terrance Devon inside front row, and #28 Mark Porpealia outside. Porpealia got a great start and took the lead right away. The race ran caution free and Porpealia remained out front to take the win. #78 Jason Herrington pulled up 2nd, about 4/10 of a second behind Porpealia, #22 J.P. DelPaggio 3rd, #17 Keith Horner 4th, #01 John Ross 5th
Modified heat race 2 had ten cars start; missing from the action was #75 Tim Aho. The race ran similar to the first heat, with no cautions. Porpealia starting at the front held that position to take the checkered flag for the second time in the evening. Mark Laakso took second, about a quarter second back, #22 J.P. DelPaggio 3rd, #78 Jason Herrington 4th, and #90 Jay Palumbo 5th.
Caution flew four times in the 20 lap Modified feature. Once again Devon and Porpealia started up front and the pair stayed side by side up front for the first three laps, with Porpealia in the lead by a nose. On lap 4 the first caution flew, when a couple cars got together in corner 1, sending #90 Jay Palumbo up over the bank outside corner 1. #97 Devin Service was sent to the back for the incident, Palumbo left for a tire change and also restarted at the rear. After the restart, caution flew again before a lap was counted, this time it was #17 Keith Horner and #7 Terrance Devon making contact through corner 2. Horner was sent to the back for that one.
The race restarted and Porpealia led lap 4 before caution flew again. This time it was #01 John Ross looping it coming out of corner 4. Another restart and Porpealia maintained the lead for another lap but had J.P. DelPaggio running alongside. By lap 11 DelPaggio had the front position and #75 Tim Aho moved into second. Caution was out again on lap 16 with a spin through corner 4 by #01 John Ross. Ross restarted at the back. With 5 laps to go on the restart, DelPaggio stayed out front for the win. Aho finished 2nd, Palumbo 3rd, Porpealia 4th, #78 Jason Herrington 5th and #84 Mark Laakso 6th.
Northland Autobody Factory Four Division:
In the Factory Four Division we saw 13 cars out in the qualifying session. #12 Fern Mannarino was fast qualifier with a time of 17.708 seconds. The Factory Fours ran two 10 lap heats and a 20 lap feature through the night.
In their first heat, caution was out before the green flag flew as a couple cars came together on corner 1 on the parade lap. The lineup was reset and the race then had a successful start and ran caution free, although there was a couple close calls with cars sliding but able to recover. #42 Jack Lannigan led them off with #94 Seth Ralph outside. Lannigan did well leading the firs t three laps then was passed by #16 Dyllen Sherrard on lap 4. #05 Tyler Praysner got around Lannigan on lap 5. Praysner got past Sherrard on lap 8 for the lead and then the win. Sherrard was 2nd, #22 Shanna Harten 3rd, Mannarino 4th, and Lannigan 5th. Seth Ralph had a problem and left the track after 4 laps.
In the second heat there were 13 cars out. With Seth Ralph missing, Lannigan had #20 Matt Lewis beside him for the start. The race ran caution free. Lannigan had the lead for the first 3 laps with other coming up beside. On lap 4 though, Lannigan was tagged in corner 3 and went sideways, no caution flew as Lannigan recovered and kept going, having fallen back 9 places. #21 Daryl Whitmell led laps 4 and 5 then #16 Dyllen Sherrard took over the lead and continued to take the checkered flag. #22 Shanna Harten followed with 2nd, #05 Tyler Praysner 3rd, Whitmell 4th, and #12 Fern Mannarino 5th.
Thirteen cars took part in the Factory Four 20 lap feature. Seth Ralph was back out and started up front beside Lannigan. The race ran 20 laps caution free. Ralph led the first lap then was passed by Dyllen Sherrard for the lead, and a lap later Fern Mannarino got past him to take over 2nd. Sherrard led through to lap 11 with Mannarino in close pursuit. Mannarino got by on lap 12 and held the lead until he got tied up in lap traffic on lap 18. Sherrard took advantage and took over the lead for the win. Mannarino took 2nd. #05 Tyler Praysner worked his way to 3rd, #7 Christopher Viotto 4th, #94 Seth Ralph 5th, #21 Daryl Whitmell 6th, and #20 Matt Lewis 7th.
AIM Recycling Enduro Division:
In their qualifying session, there were 10 Enduro cars out. Fast qualifier was #4 Taylor Larrett.
There were 13 cars out for the Enduro feature, the last race of the night, scheduled for 15 laps with no cautions. The race got underway and before his first lap was completed #22 Lucas Crosato hit the front stretch guardrail coming out of corner 4, spun around and found himself up against the guardrail looking at traffic coming off of corner 4. #26 Nelson Mackay and #83 Jon Hill started up front. Mackay was only able to keep the lead for a lap then was passed by #86 Dylan Connolly. Connolly maintained the lead through to lap 9, then #83 Jon Hill led for a lap, then Connolly took over again. On lap 14 #19 Rob Morrison, having moved up through the field during the race got past both Connolly and Hill to take over the lead. Before that lap was complete though disaster struck. The group came up on lap traffic of #420 Alyssa Carpinteiro. Alyssa was pushing up to the edge of corner 4 and Morrison and others followed. Alyssa hit the tires on the outside of the exit of corner 4, near where the guardrail begins, which turned her car sideways. Morrison right behind plowed into Alyssa's car rolling it over on it's roof. It was a scary moment but all involved were ok. The race was called complete at that point so the finish order reverted to the last completed lap.
So #86 Dylan Connolly is credited with the win, followed by #83 Jon Hill 2nd, #79 Cody Herrington 3rd, #71 Taryn McCoy 4th, and #21 Tim Pascall 5th.
Other Activities
:
During intermission we had a School Bus race, a lawnmower race, and for the first time this season Spectator Drags. We also gave away two CCM Bicycles to a couple kids that were randomly selected from the grandstands.
Visit the Lairdraceway.com website and click on the "media" menu item to see photos from the racenight. Fans can also visit the Lairdraceway Facebook page for announcements and more information.
Our next racenight is scheduled for Thursday August 10th. We'll have a special 30 Lap Modified Feature with $1000 to win, plus a $750 to win 25 lap Factory Stock Feature. There are only two regular scheduled race nights left this season, plus the two day Mike Parson's Memorial event at the end of August. Don't miss any of them!
---
Article Credit: Tom Stephenson
Submitted By: Tom Stephenson
Article Media
Back to News