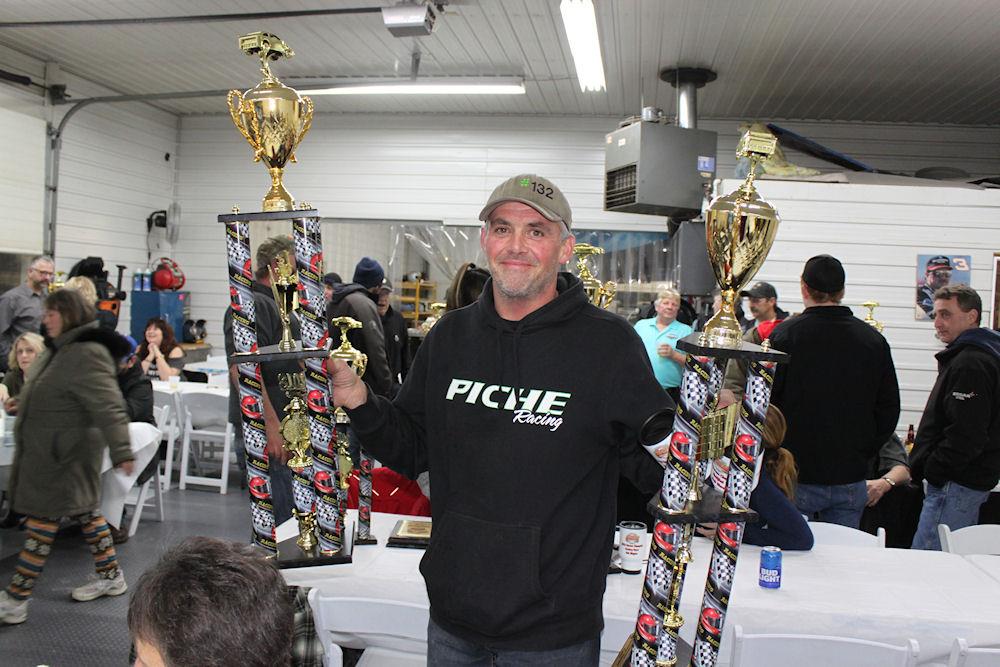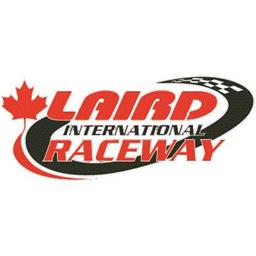 ---
2018 Awards Banquet
The 2018 Superior International Motorplex Awards Banquet was held during the evening of Saturday November 17th. The banquet was held in the garage of track promoter Donnie Varcoe. A wonderful meal provided by The Grand Gardens was had, and shortly after that Donnie handed out awards and trophies to drivers.
The first to be recognized were those drivers that had perfect attendance through our 7 night 2018 schedule. In the Northern Fencing Super Late Model Division those with perfect attendance were Josh Ware, Ron Raynor Jr., and Rob Hiiemaa. Josh Ware also had perfect attendance in the Superior Truck Repair Michigan Modified Division, along with Mark Porpealia and Mark Laakso. Jarritt Varcoe was the sole driver with perfect attendance in the Northland Autobody Factory Stock division and Jack Lannigan was the only driver attending all events in the Great Lakes Bus Tours Factory Four Division. Dustin Jackson and Jake Irwin also had perfect attendance, but split their time between two divisions.
The top three drivers in each division were handed trophies, with others finishing 4th through 6th or 7th being handed a plaque. Top 3 in each division are:
Northern Fencing Super Late Models
1st #21k Josh Ware
2nd #61 Dustin Jackson
3rd #50 Rob Hiiemaa
Superior Truck Repair Michigan Modifieds
1st #7 Josh Ware
2nd #28 Mark Porpealia
3rd #84 Mark Laakso
Northland Auto Body Factory Stocks
1st #67 Jarritt Varcoe
2nd #01 Jerry Ross
3rd #52 Jonathan Diodati
Great Lakes Bus Tours Factory Fours
1st #88 Rob Wagner
2nd #42 Jack Lannigan
3rd #12 Anthony Mannarino
Full season points/place results can be found on our website at http://superiorinternationalmotorplex.myracepass.com/points/
Of special note was Barbeau Michigan driver Josh Ware. Ware drove in both the Super Late Model and Michigan Modified divisions and proved himself to be the man to beat. Ware took top spot in 6 of 7 features in each division, only being beat in a feature once in each division by Dustin Jackson. Jackson split his time between divisions through the season.
The track also recognized a number of rookies. Ron Raynor Jr. was rookie of year in the Super Late Model division. Ron previously drove a Factory Stock and switched up to Late Model this season. Similarly, Mark Porpealia took rookie of the year in the Michigan Modified division and additionally came in second in the division. This was his first year in a modified, previously running a Factory Stock
.
Jonathan Diodati was recognized as rookie of the year in the Factory Stock division. He came in third place in the division. Jonathan previously ran in the Factory Four class.
In the Factory Four division, both Andrew Premo (rookie of the year) and Kaleb Foster were recognized. Foster travels from Wawa to race.
Jay Palumbo, who was not present during the evening was given the "hard luck" award, after missing most of the season due to broken arm, and shoulder that he received while racing motocross.
Chase Wilson was also mentioned. Chase was "jockeyed" around in different divisions through the season. He came out with an "A" ABC car at the beginning of the season and the car was "overly competitive" in comparison to other cars in the division. Chase was moved to run with the Late Models, and also the Modifieds during different races through the season. Chase was not present for all races of the season, but despite that, he accumulated 103 points split between three different divisions. That would have given him a 4th to 6th place standing in any one of those three divisions had he ran in just one division. He did well for being such a young driver and undoubtedly benefited from driving with drivers from the different classes. Chase is showing good promise to become an outstanding and notable driver in upcoming seasons.
Once the awards presentations were completed, promoter Donnie Varcoe mentioned some initial plans and changes for the upcoming season to drivers that were present. Stay tuned in upcoming weeks to learn more about these plans and changes.
Once the awards were done, attendees spent some time socializing and the evening ended relatively early, at about 9 pm.
Photos from the banquet can be viewed at http://superiorinternationalmotorplex.myracepass.com/gallery/?g=15661
---
Article Credit: Tom Stephenson
Submitted By: Tom Stephenson
Article Media
Back to News