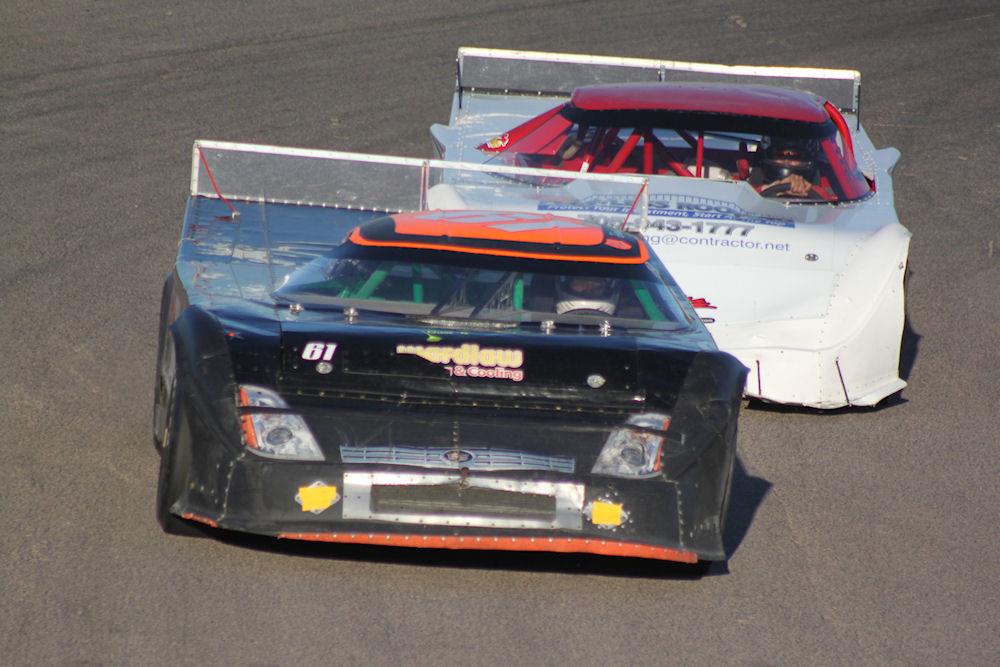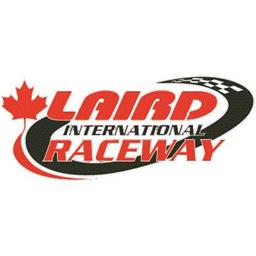 ---
Racenight Highlights for July 6, 2018
Our July 6, 2018 night was our second racenight of the season. We had a reprieve from the heat wave for the evening with temperatures starting out at about 21°C – just perfect for a comfortable race night.
Our night started with a moment's silence for four people that have passed. Brandon Odber, a crewman on Roddy Bolduc's past race team lost his life in a drowning incident in June. Also gone is long time race fan at Laird & Superior, Garry Robinson. Garry is grandfather to racer Buddy Palahnuk and father to Buddy's mom, Trudi Palahnuk. Norm Van Hoek was a long time supporter of our local track and he passed away in 2015 after a brief bout of cancer. Also recognized was the loss of Kevin McLeod in late 2015, from cancer. Kevin was a Late Model driver during Laird's first seasons. Annette Bouchard sang the national anthems and our racenight was then underway with fast car dashes in three divisions.
ABC – Factory Stock
The ABC cars were out for their dash first. Caution came out once as #69 Josh Maitland and #21K Kevin Errington spun synchronously through corner 1 and 2. Maitland left and the race restarted. #77 Chase Wilson made a late race pass on #67 Jarritt Varcoe to take the win. Errington finished 3rd.
There were 5 cars out for the ABC heat. In the pits, but missing from the race were Maitland, Errington, and Jacob Heimonen. Early in the race #01 Jerry Ross at the front slid out of corner 4. Jarritt Varcoe hammered the brakes to avoid hitting Ross, and Chase Wilson right behind Varcoe tapped into the back of Varcoe. All three managed to avoid a disaster and moved on. Ross led the first couple laps then was passed by Wilson, Varcoe worked Ross to try and take second but couldn't do before the 12 lap race was over. Wilson took checkers, Ross 2nd, Varcoe 3rd, #26 Buddy Pahlanuk 4th and Jon Diodati 5th.
Five cars were out for the ABC feature after intermission. Maitland was back out. Wilson and Heimonen with a faster cars, were moved into the race with the late models. Errington was still missing. The race began with Ross and Pahlanuk in the front row. A couple laps in and Varcoe was working side by side with Ross with Josh Maitland right behind. A couple laps more and Maitland got past Varcoe to race Ross for the lead. Ross and Maitland ran side by side for a few laps, with Maitland outside. The pair traded first a few times then Maitland went a bit too high out of corner 2, slid and fell back. Maitland must have had something break as he left the track shortly after, as did Palahnuk. Varcoe brought out the caution with a spin through corner 3. The race resumed with just three cars left and continued to the end caution free. Varcoe could keep up with Ross, but couldn't get beside to attempt a pass. Ross took the checkers, Varcoe finished 2nd, and #52 Jon Diodati 3rd.
Outlaw Modifieds:
The Outlaw Mods started their night with a Four Car Dash. Caution nearly came out during the race with #01 John Ross making a slide up corner 4 almost off the track. He was able to regain control and the race continued. Dustin Jackson who was driving Kevin Oicle's #3 car for the evening took the checkers, with #7 Josh Ware 2nd, #00 Nick Kozak 3rd, and Ross 4th.
Ten modifieds came out for a heat race, but before the green the #4 of Michael Carbone Jr. left, possibly with engine troubles. The 12 lap heat got underway and ran fast and caution free. Jackson took the lead from the start. Cars jockeyed around behind him and the race became one of Ware and Kozak working to keep up. On lap 10, as they approached lap traffic on the backstretch Ware made a daring move and took the lead from Jackson only to lose it with a slide up corner 4. Ware returned to second place and worked Jackson hard but couldn't get the lead back. Jackson had the win, Ware 2nd, Kozak 3rd, Ross 4th, #28 Mark Porpealia 5th, #21 Jake Irwin 6th, #88 Randy Lapossie 7th, #41 Jay McCoy was 8th. Mark Laakso in the #84 left the race on lap 5.
Seven mods were back out for the last feature of the night. Right at the green, Kozak, starting inside second row moved up a bit high and made contact with Jackson on the outside, spinning around the nose of Jackson and into the front guardrail. Kozak managed to restart the race. A full restart was called for, but the drivers lined up single file. Kozak appeared to jump the start a bit but wasn't called for it. A couple of laps in, caution came out as Mark Porpealia and Dustin Jackson made contact going into corner three with both spinning out. The race restarted with John Ross out front and Kozak behind. A couple laps after the restart Josh Ware got past Kozak, then Ross to take over the lead. As Ware opened up his lead, Ross, Kozak and Jackson battled for second. Caution came out on lap 14 when Porpealia spun out of corner 3. After the restart, Ware again opened a gap on Ross, while Ross was trying to hold second from Kozak and Jackson. Eventually, Ross left a bit too much space open underneath and Jackson took advantage and dove in to take the second spot from Ross. At that point, Ware had opened up nearly a quarter lap lead. Jackson worked hard to narrow the gap and wasn't making up much time as the laps clicked by. With two laps remaining, caution was out again with Ross and Kozak both spinning in hard in corner 3. Kozak was unable to continue. We had a two lap shootout with 5 cars on the track. Ware didn't relinquish the lead and took the win, with Jackson 2nd, Ross 3rd, Porpealia 4th, and #88 Randy Lapossie 5th.
Super Late Models:
Both Josh Ware, driving the #21K and Dustin Jackson in his #61 were doing double duty and climbed into their Late Models for a dash, along with #78 Mike Sturgill – up from Onaway Mi, and #100 Ron Raynor Jr. The race ran fast and Ware took the win, with Jackson 2nd, Sturgill 3rd, and Raynor 4th.
The Super Late Model heat consisted of 7 cars at the green, led by #46 Dan Byrnes, and #50 Rob Hiiemaa. A lap in caution came out with #61 Dustin Jackson going into a spin through corner 4. As Jackson spun backwards, #100 Ron Raynor was collected. Raynor needed a tow off. After the restart, Josh Ware moved up to 2nd. A couple laps later, caution was out again with #15 Steve Baraluk spinning off corner 2. A third caution came out during the race with a spin by #78 Mike Sturgill off the top of corner 4. One more came out when #61 Dustin Jackson and Sturgill made contact going through corner 1 and 2. At the end of it all, Dan Byrnes took the checkers, Ware 2nd, Hiiemaa 3rd, Jackson 4th, Sturgill 5th, and Baraluk 6th.
Hiiemaa and Sturgill were both missing from the Late Model Feature; however, the field included Chase Wilson and Jacob Heimonen's faster ABC cars – they were scored separately during this race. Byrnes led the first laps of the race until he left a bit of room underneath allowing Ware to dart under and take the lead on the 5th lap. Sturgill, who didn't start with the green pulled up onto the track about 9 laps in. Through the race Ware opened up a lead on Byrnes of about 10 car lengths. Third place was occupied by Jackson about another 10 car lengths back. Caution came out on lap 23 with Baraluk taking a spin through corner 2. The caution served to bring the cars back together allowing Byrnes and Jackson a chance to get the race from Ware. At the restart caution waved immediately with Byrnes jumping the start. Ware again opened a lead in the last two laps and won the race. Byrnes finished 2nd, Raynor 3rd, Baraluk 4th, and Jackson 5th with a spin on the last lap of the race. Both Heimonen and Wilson failed to finish with problems.
Factory Fours:
In Factory Four action we had a heat and a feature. The heat was dominated by #99 Rebecca Fewchuk, who went on and took the win. #12 Anthony Mannarino managed to get up beside Fewchuk once or twice but couldn't complete a pass. Mannarino showed 2nd, #88 Rob Wagner placed 3rd, #42 Jack Lannigan 4th, #59 Andrew Premo 5th, and new driver #95 John Mignacca 6th.
The Factory Four feature was a 15 lap event with the same 6 cars. Wagner took an early lead and opened up a gap. Mannarino moved up to second with Fewchuk right behind. The race went caution free and as the laps wound down, Mannarino got closer to Wagner, but not close enough. Wagner took the checkered flag, Mannarino 2nd, and Fewchuk 3rd.
Check out the photos from the evening in our gallery at http://lairdinternationalraceway.myracepass.com/gallery/?g=15256
The night was rounded off with a School Bus Race featuring 7 buses.
---
Article Credit: Tom Stephenson
Submitted By: Tom Stephenson
Article Media
Back to News